Lakeview Manor gets a paw of approval from our first canine tester
Last year we announced that we were looking for our first ever canine recruit, a diligent dog (and their owner) to come and experience our holiday lodges and report back on what worked well and what could be improved in the future at our stunning lakeside location for dog owners. We're delighted to report that the lovable Frodo and his owner Alex, came to stay with us recently and we spoke to them afterwards to get the lowdown on the most important questions, such as the best place for walkies and finding sticks: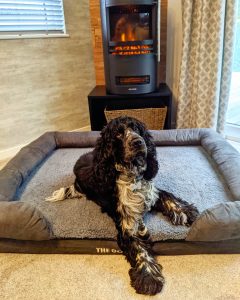 Where is the best place for snuggles or a belly scratch in the lodge?
I loved curling up on the giant dog bed right in front of the electric fire in the lodge. It was a great way to chill out and dry off after a big walk in the countryside. I'm not a big fan of water and I was very curious watching my parents enjoy the hot tub.
Where is the best place for finding sticks in our surrounding woodlands?
A short drive West of Lakeview Manor is Knowles Wood, a great place to run amongst the trees and to explore new areas to sniff.
Did you take walkies around Lakeview Manor? What was your favourite route?
The grounds are very pretty, we found three lakes on-site that were excellent for walking around. Sunset walkies around the fishing lake were idyllic and I could explore to my heart's content.

Did you visit the Dabbling Duck restaurant and bar? If so, how welcoming were the humans and facilities?
The Dabbling Duck was a really cosy place to unwind and was only a couple of minutes' walk from our lodge. I sat next to my parents while they enjoyed a big roast dinner on Sunday and then curled up next to the fireplace while they had a post-dinner drink. The staff were really friendly and gave me a couple of biscuits for being a good boy.
Where is the best place for playing fetch on the grounds?
There is a lake behind all of the lodges that I can run freely off my lead, my parents brought a tennis ball for me to fetch and I loved running around like a crazy Cocker Spaniel.
Did you enjoy some time with your human at a dog-friendly café or restaurant? If so where and what did you like about it?
There were lots of places to eat and drink near Lakeview Manor, including a cute café for coffee and cake near the local airfield. We also had dinner one night at The Otter Inn in the local town of Honiton. There were lots of other doggos in the pub and my parents loved the special curries that were on offer. The pub was popular with the locals so we recommend booking in advance.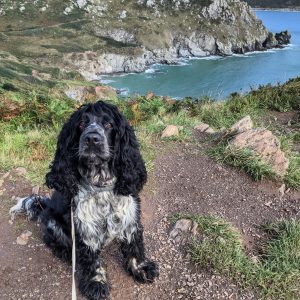 What local area did you explore? Would you recommend it to other pooches visiting the area? What did you like about it?
We did lots of day trips while on holiday, I had my first ever tram ride when we visited Seaton on the south coast. The trams are dog-friendly and you can jump on/off at different points to explore the fields. We also spent a day in North Dartmoor where we did a big 3 hour hike on the Teign Gorge, Castle Drogo Trail which was beautiful. We even had pub lunch on a picnic bench next to the river whilst on the trail. And finally, we did venture further afield and went to Salcombe Bay where there was a dog-friendly ferry ride and lots of nice beaches.
Finally, does your owner think we can provide anything more to make your stay paw-fect? 
We had a wonderful stay and the team were very welcoming, we can't wait to come back and explore the grounds again. Dog water bowls in the Dabbling Duck and the lodges would make the holiday even more paw-fect.
Well behaved dogs (and other pets!) are always welcome to stay for free here at Lakeview Manor. As you can see from Frodo's experience, there are plenty of activities to keep even the most energetic dog entertained! For further information on our dog-friendly holidays and to book click here.
Back to News